"Pour yourself a drink, fasten your seatbelt, and get ready for the trip of a lifetime." — Robert Adams, Passport Magazine
Notes on a single mother, a misfit son, inevitable mortality and the enduring allure of frequent flyer miles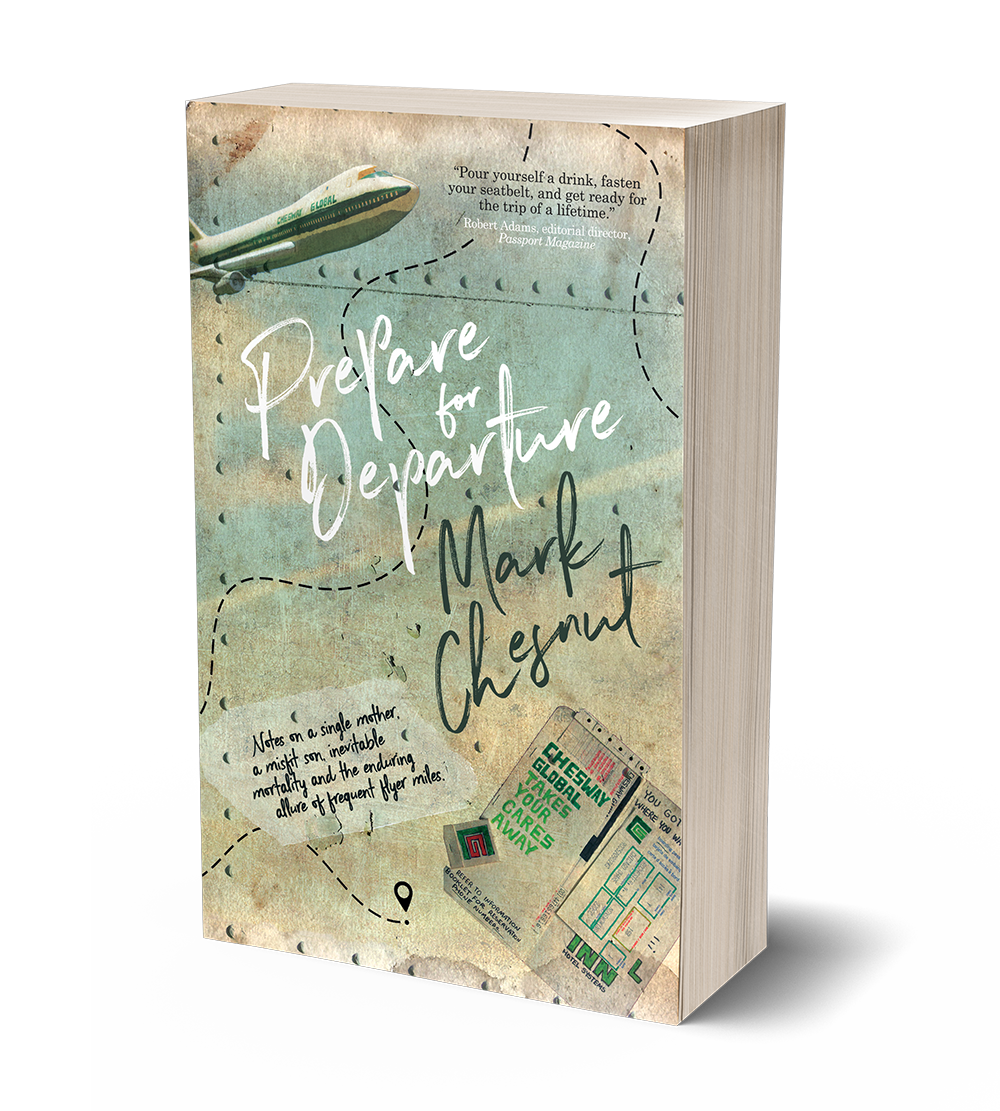 Available in print and ebook format: CLICK HERE TO ORDER


"Mark was born with a traveler's eye, one that sees below the surface, and a writer's voice, to share what he sees in ways that enlighten others."— Arnie Weissmann, Travel Weekly


A touching and darkly humorous exploration of identity, coming out, aging and death, set against a backdrop of travel and the pursuit of a dream. If David Sedaris, Michelle Zauner or Samantha Irby were travel addicts, they might relate.
Prepare for Departure is a memoir about a mother, a son and the journeys that families sometimes must take together.
For award-winning travel writer Mark Chesnut, overwhelming wanderlust was the result of a misfit childhood and an indulgent upbringing by a single mother. At an early age, Mark learned to dodge discomfort by jumping on the nearest plane, bus or car. That tactic proved especially useful when his mother made it clear that there was no room for discussion about his gay identity.
Now, as 89-year-old Eunice Chesnut moves to a New York City nursing home to spend her final weeks near her son, Mark embarks on the most emotional journey of all.
Prepare for Departure showcases what happens when a permissive mother and a travel-obsessed son face death while revisiting life — from airport shoplifting to avoiding Southern Baptist salvation, from acting like Hillary Clinton in a nursing home to hanging with a dragged-out grandfather, from creating an imaginary airline to flying away and finding a place in the world.
It's what might happen if Augusten Burroughs and David Sedaris were hanging out in a nursing home with Mitch Albom, with Paul Theroux and Dave Eggers stopping by to provide some snarky flavor.
More than an end-of-life memoir, more than a collection of childhood memories and travel stories, Prepare for Departure takes readers on a trip — through time, through loss and through forgiveness and acceptance.

WHAT THEY'RE SAYING

"In this memoir for today, travel writer and self-confessed aviation nerd Mark Chesnut presents a different kind of guidebook. Sharing moments culled from a lifetime's worth of experiences, Chesnut examines the highs and lows between a mother and son, and the complicated path as the child becomes the caretaker. With writing that is often achingly beautiful, weirdly hilarious and always brutally honest, Chesnut shares his family's history over the course of decades, ranging from his Southern roots in Kentucky to his childhood in Upstate New York, all while interweaving stories from his successful career traveling the world. Ultimately, the journey along this road arrives at a greater acceptance of the fragility of life, and the faults and courage that make us human."— Kenneth Shapiro, TravelAge West
"A warm-hearted, funny memoir about growing up different. Yes, he works as a travel writer, but Mark Chesnut reminds us that life itself is a journey, with our family as our constant traveling companions. Mark's delightful voyage with his irrepressible mother, Eunice, is poignant, humorous, and deeply moving. With its vivid characters, awkward life lessons, and valuable travel tips, Prepare for Departure is filled with trials, triumphs, and laughter. It's a trip you won't want to miss. Buckle up! It's going to be a bumpy – but also extremely entertaining – ride!"— Ann LeSchander, writer/director, The Park Bench
MEDIA: Please click here to see the full media kit and press contacts.