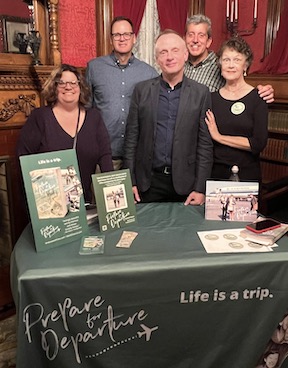 MARK CHESNUT LOVES BOOK CLUBS & READING GROUPS

If you're a member of a book club and would like to feature my book, Prepare for Departure, please let me know! I love speaking with readers to share our thoughts and experiences, and to hear what they think of the book.
I'm available to participate virtually in book club meetings — and, when possible, I love to show up in person, too. I've attended book club meetings with groups of various sizes, ages, interests and identities, and it's always amazing to see how much we share in common.
You'll find book club discussion questions below to get the conversation started as you read Prepare for Departure. Feel free to contact me when you're ready!

BOOK CLUB DISCUSSION QUESTIONS FOR "PREPARE FOR DEPARTURE"

Prepare for Departure addresses several heavy issues, including aging, sickness, the loss of a loved one, parent-child relationships, feeling like a misfit, coming to accept one's identity (gay or otherwise), coming out and following one's dreams in life. How do these very diverse themes affect the reader's ability to relate to the story? Which themes did you find the most compelling and why?
What role do you think humor played in this story? Do you think it was used mostly to counterbalance the heavier themes of illness and death, or was it more a natural depiction of the Chesnut family's own sense of humor?
How do you feel about the book's depiction of "travel" as source of escape, obsession and relief for Mark? How do Mark's dreams of travel compare with other types of escape that people might use or wish for when experiencing difficult situations?
Why do you think the author split the story between the "present" and flashbacks to earlier years?
How would you describe the personality of Eunice Chesnut in the book and her support of her son? How did it evolve from the earlier years to the final months of her life?
How do you feel about the chapters that discuss religion and racism? What do you think they say about Mark and his family?
Do you think that Mark and Eunice had fully resolved issues they'd dealt with, such as her discomfort with him being gay, by the end of the book? Do you think that Mark felt a sense of closure by the time the book ends?
What have you learned after reading this book? Has it broadened your understanding of any issues?
What other books would you compare to Prepare to Departure? Why?