Book Cover Reveal for My Memoir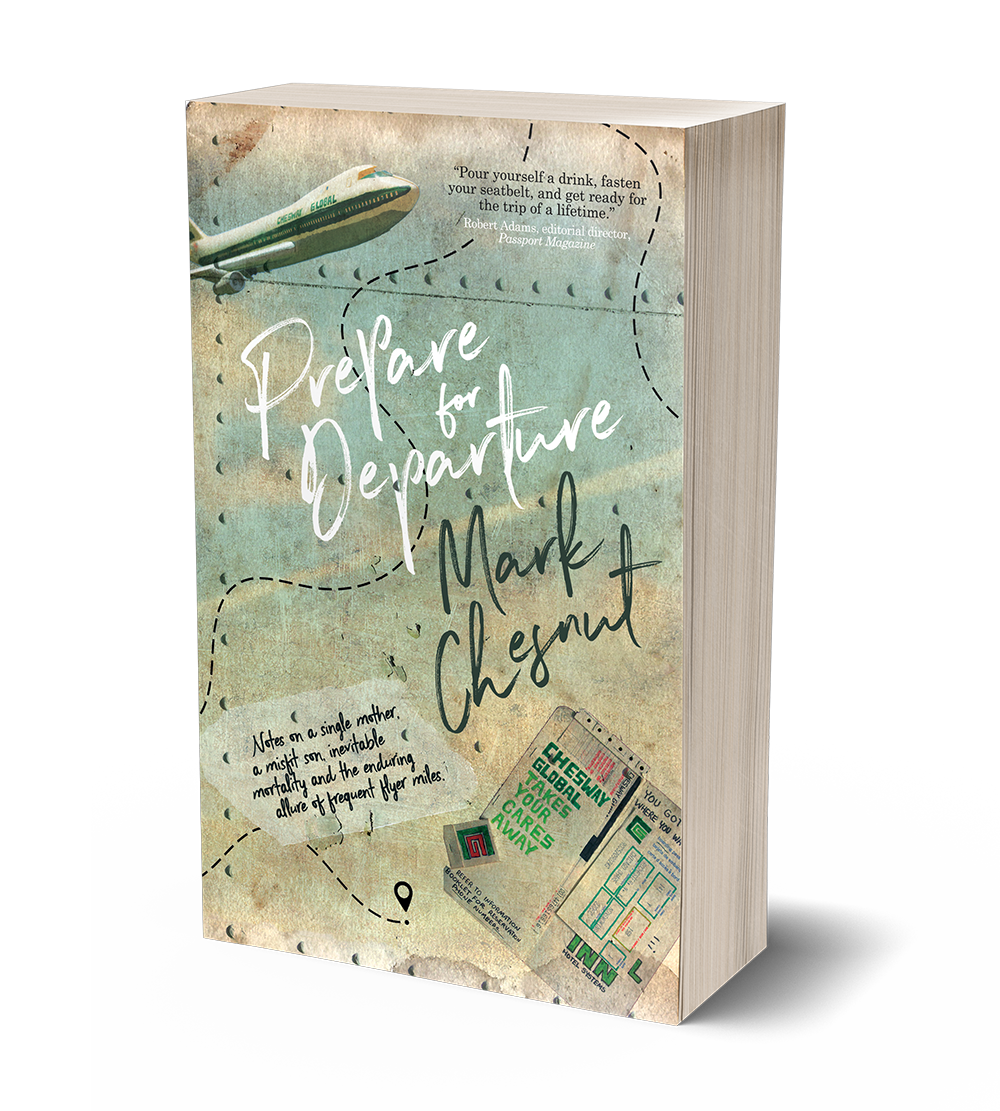 One of the most exciting moments for any writer — including any travel writer — is to have a book published. And one of the highlights of the lengthy book publishing process is the cover reveal, when the publisher unveils the design for the book cover. It's a moment when all of the hard work that's gone into the book comes together in visual form. Well, that's just happened for me.
As you might guess, my new book explores the roots of my travel obsession, and how I came to be a travel writer. But this memoir goes far beyond that, as it also recounts the complex (and often hilarious) story of life with my mother, as I grew up and also in the final months of her life. The depth of this memoir anthology is hinted at in the title and (rather lengthy) subtitle — Prepare for Departure: Notes on a single mother, a misfit son, inevitable mortality and the enduring allure of frequent flyer miles.
The book will be published by Vine Leaves Press, an innovative indie publisher that aims to blur the line between commercial and experimental work, and I'm thrilled to be working with them. Prepare for Departure will be available for pre-order starting in May 2022 and the publication date is July 2022. But book covers are always revealed several months before the book's release, because they're a crucial part of book marketing and publicity efforts, and are used to grab the attention of the media and readers to generate excitement and coverage before the book's out.

It can be nerve wracking to wait for the cover to be revealed, since you never know what the designer and publisher might come up with. So I was elated when I opened my email this week and found this cover, designed by Jessica Bell, who is an amazingly talented book designer as well as the publisher of Vine Leaves Press.

I love how she infused the cover with elements of travel — most notably by including visuals of Chesway Global, the imaginary airline I invented way back when I was a student at Brockport Middle School in Western New York State (there's more about that groundbreaking fake airline in the book).

The book cover features a model plane that I built in seventh grade and painted in the official Chesway Global colors (I photographed the model years later, just before my mother sold her house). Those airline colors are reflected elsewhere in the book cover design as well — and she even included the fake airline ticket jacket and boarding pass that I made. My seventh-grade self would be so excited to see my work featured on a book cover! (And I am grateful that my mother had a big house and never threw out any of my airline memorabilia creations.)
Prepare for Departure is already receiving positive reviews. On the cover, you can see a blurb from Robert Adams, editorial director at Passport Magazine, that reads "Pour yourself a drink, fasten your seatbelt, and get ready for the trip of a lifetime."

I'll save the other endorsements for later, but that can give you an idea about what to expect.


Is This Just Another Travel Book?
Not at all. Prepare for Departure is a collection of memoir essays. It is, if you can pardon my word choice, a definite departure from my usual hotel reviews, destination reports and travel tips.
I'll let the official description fill you in...

At an early age, award-winning travel writer Mark Chesnut learned to dodge discomfort by jumping on the nearest plane, bus or car. That tactic proved especially useful when his single mother made it clear that there was no room for discussion about his gay identity.
Mark, overwhelmed with wanderlust, shoplifts in airports, avoids Southern Baptist salvation, acts like Hillary Clinton in a nursing home, and dresses in drag with his grandfather. He even creates an imaginary airline and flies away.
Now, as 89-year-old Eunice Chesnut moves to a New York City nursing home to be near her son, Mark's obsession with travel takes a backseat as he embarks on the most emotional journey of all.
More than an end-of-life memoir, more than a collection of childhood memories and travel stories, Prepare for Departure showcases what happens when a permissive mother and a mistfit son face death while revisiting life. Buckle your seatbelts for a witty, touching and darkly humorous trip — through time, loss, forgiveness and acceptance.
Personally, I think that Prepare For Departure will appeal to anyone who's felt like a misfit, anyone who's dreamed of following their passions, and anyone who's had a close-but-imperfect relationship with a parent and had to learn to say goodbye.

I hope that you'll stay tuned and consider ordering the book starting in May 2022. I'm excited to share my story and hope that it will resonate with others, and I'd love to hear your reaction, as well as your story, too!

Why Did I Write My Memoir? 

I've been a travel writer for more than 20 years. But it wasn't until much more recently that I started working on a memoir. I felt compelled to start writing it when my mother became sick a few years ago, and it gradually became a complete collection of essays; memories of my mother's and my life together. It's also a story of how even a misfit kid can follow his dreams, and how families deal with love, loss and forgiveness.

The manuscript has been finalized and pre-sales for the book start in May 2022, with publication date in July 2022. The title of the book, you may ask? PREPARE FOR DEPARTURE: Notes on a single mother, a misfit son, inevitable mortality and the enduring allure of frequent flyer miles.

Sound too heavy or syrupy for you?

Well, it's not all serious. This memoir anthology collection — titled — also includes stories about me stealing stuff from airports and imitating a middle-aged female flight attendant when I was about 13 years old. It includes stories about me choosing Star Wars over religious salvation. And how my high-strung Aunt Agnes made noises like James Brown while doling out "free spanks." And how I became a travel writer since I'm too anti-social to be a flight attendant.

After several years of hard work, I found a publisher. It's an Australian outfit called Vine Leaves Press, which publishes print and ebooks in English for sale around the world. They're an innovative publisher that aims to blur the line between commercial and experimental work, and I'm thrilled to be working with them.

Be sure to subscribe to receive updates about all of my work, and to find out when the book is ready to order, in May 2022!