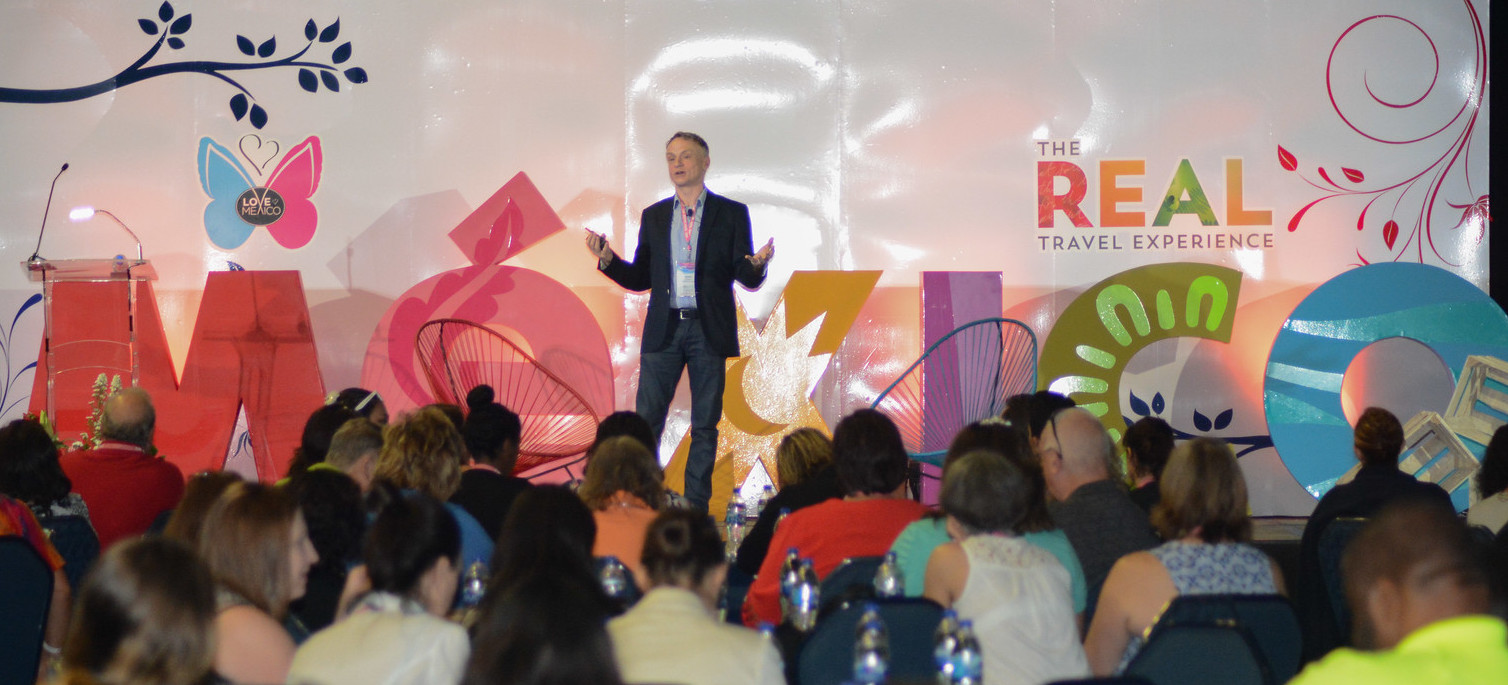 EVENTS & APPEARANCES
(If you're interested in an interview or having Mark speak virtually or in person, please use the contact form. To order a copy of Prepare for Departure, click here!)


RECENT APPEARANCES & PRESS MENTIONS
TV, RADIO & STREAMING VIDEO

• "Good Day Rochester" on FOX Rochester (TV)
Interview with Mark Chesnut, travel writer and author of "Prepare for Departure"
• "Transactionally" on RadioLEX
Queerness, Kentucky and Family Memories: A Conversation with Mark Chesnut
• Book-ish Talk (live streaming video)
Interview about travel writing, memoir writing and how to keep your creative self confidence
• NYC Department of Education/Corona Arts & Sciences Academy
How to Be a Travel Writer & Create Your Dream Job

• Life, Love & Loss in an Airport (promotional video interview)
IN-PERSON LIVE EVENTS
• Los Cabos Tourism Board Holiday Party, Beverly Hills, California
How Your Inner Kid Can Make You Happy — Even When You Travel! (motivational presentation based on the book, about reconnecting with your younger self)

• NLGJA National Convention (journalism panel host)
What It's Really Like to Be an LGBTQ Travel Writer Today (video)

• NYC Book Launch Party & Reading, hosted by The Spot Bar NYC, book sales managed by The Bureau of General Services — Queer Division
Book presentation and reading (live event, book reading, signing, Q&A)
• Western-Monroe Historical Society/Lift Bridge Bookshop (book reception and reading)
Author Mark Chesnut's Book Tour in Rochester and Brockport, New York (video of book reading, reception and TV appearance)

• Albany Book Festival (author/exhibitor at live event)
Book Tour Appearance
• ASTA Global Convention, San Francisco (video of live presentation)
5 Ways to Profit with the LGBTQ+ Travel Segment

• Book Launch Party & Reading at The Queensboro, Jackson Heights, NY
Click here to watch the reading and hear reader reviews from the event!
• Louisville Book Festival, Kentucky International Convention Center, Louisville, KY
Presentation: 6 Steps to Memoir Success: How to Write, Sell and Market Your First Memoir


INTERVIEWS & FEATURES
• Forbes (profile feature)
Travel Writer's Memoir Puts a Personal Meaning on "Departures"
• Louisville Courier Journal (interview)
Celebrate Who You Are: Louisville Pride Center Officially Opens on National Coming Out Day
• Westside News (article)
Brockport Native's New Memoir Explores Revisiting Life While Facing Death

• Nail Your Novel (interview article)
From Travel Journalism to Inner Journeys: Mark Chesnut on Writing His First Memoir

• Drillinjourneys (interview)
Prepare for Departure: An Interview with Mark Chesnut

• Traveling IQ (interview)
A Mother & Son's Bond Inspires the Love of Travel

GRIEF & CAREGIVING PODCASTS

• The Caring Caregiver Show (podcast)
A conversation about elder caregiving and older parent/child relationships

• Grief Out Loud (podcast by the Dougy Center, the national grief center for children and families)
Caring For a Parent at the End of Life: an interview with Mark Chesnut

• Grief is My Side Hustle (podcast)
Dealing with Anticipatory Grief, A Parent's Illness and the Healing Power of Travel and Humor

• Give Grief a Chance (podcast)
Episode 156: A Chat with Mark Chesnut About Life, Loss, Travel & Humor
STILL TO COME: Where's the Grief (with Jordon Ferber)
TRAVEL PODCASTS

• Speaking of Travel (iHeart Radio podcast interview)
Mark Chesnut on the Transformative Power of Travel and Roots of Wanderlust

• TravelPulse (podcast)
Trends in LGBTQ Travel + A Peek At Mark Chesnut's New Memoir about Life, Death & the Transformative Power of Travel

• The Thoughtful Travel Podcast
Travels Along the LGBTQIA+ Rainbow

• Humans of Travel (TravelAge West podcast)
Mark Chesnut on Using Travel as an Escape — and Life as a Freelance Writer
• The Folo (Travel Weekly podcast)
Up-and-Coming Places to Travel in Mexico

• Unique & Fresh (Houston, Texas)
LGBTQ-friendly destinations in Latin America and the Caribbean, plus teaser for new memoir (starts at 19:56 mark)
LGBTQ PODCASTS

• Coming Out Stories
Interview with Mark Chesnut: "I was so nervous I had to leave the room and come out from the kitchen!"

BOOK PODCASTS

• The Nerd Cantina (podcast)
A Conversation with Mark Chesnut
BOOK EXCERPTS
• Bold Traveller Magazine (book excerpt)
Confessions of a Pre-Teen Airline Addict
• GayCities (book excerpt)
How to Make Your Dream of Becoming a Travel Writer a Reality (but not really)

• What Is That Book About (book excerpt)
Flushing Out the Truth



BOOK CLUB APPEARANCES
• Wood Library, Canandaigua Queer Lit Book Club.
September 28, 2022 (in-person and virtual), Canandaigua, NY

• Brockport Book Club
September 30, 2022 (in-person), Brockport, NY

• Destin Book Club, Destin, FL


GIFT GUIDE RECOMMENDATIONS
• Recommend Magazine
Santa Baby: Cool Gifts for Your Favorite Travelers
"Award-winning travel writer Mark Chesnut puts his quick wit, clever observations and excellent story-telling skills to good use in his moving memoir, 'Prepare for Departure,' a swan dive into his relationships with everything travel (especially airlines) and his single mother, both equally deep. Pack your carry-on for a trip that will make you laugh, cry and want to stop and smell the roses—and it's alllll ok." — Lydia Gregory
• TravelPulse
The Best Travel Books of 2022
"Award-winning travel writer Mark Chesnut's memoir 'Prepare for Departure' is at the same time a memoir on grief and the love between a mother and son, as it is about the enduring travel bug that keeps people curious and itching to discover the world." — Lacey Pfalz
• Passport Magazine
Best Holiday Gift Books for Travelers
"A nostalgic, sometimes laugh-out-loud look at a boy obsessed ... a heartfelt, funny, first-class debut."

BOOK REVIEWS

• Albany Times-Union
"Chesnut has spent a life traveling the world and writing about it for various national magazines, but now with his mom near the end of her life his travel must take a back seat. There are so many wonderful scenes both funny and poignant in this beautifully written story. Everyone with an aging parent will identify with it." — Jack Rightmyer, Albany Times-Union

• Edge Media Network
"A thoughtful, amusing memoir ... touching, inspirational, and extremely funny"
"As a renowned travel writer, Chestnut has an incredible knack for detail and manages to make everything and everyone in his memoir feel inviting and familiar. "Prepare for Departure" dutifully serves as both a captivating collection of personal essays and a comprehensive guidebook to help one plan accordingly for the inevitable." — Christopher Verleger, Edge Media Network
• Midwest Book Review, October 2022: "Written with deftly articulated humor and insight, Prepare for Departure will have a very special and particular appeal to readers with an interest in LGBTQ biographies and memoirs, travel as a career and a compulsion, and maternal family relationships. Prepare for Departure is especially and unreservedly recommended for community, college and university library collections." — John Burroughs, Midwest Book Review
• Please Read It To me
"He doesn't sugar coat the stress and frustration that comes with navigating long-term care and end of life planning, but he didn't dwell on them either. This isn't a treatise by any means, but it's the sketches of a playbook for others in a similar situation — especially queer people that may still have baggage from less than positive coming out experiences.
The chapter, "The Flight of the Blue Heron," where he recounts the family history of a sculpture and his mother's last viewing of it in his home gutted me. It was the perfect balance of family lore mixed with the experience of letting go, both mentally and physically.
Throughout, Chesnut is likable and real. I kept thinking he would be a fun guest at a dinner party. If you're the type of reader that enjoys memoirs exploring the lighter side of life with some heavier elements, this would be a good read for you." — Andy: The Avid Listener