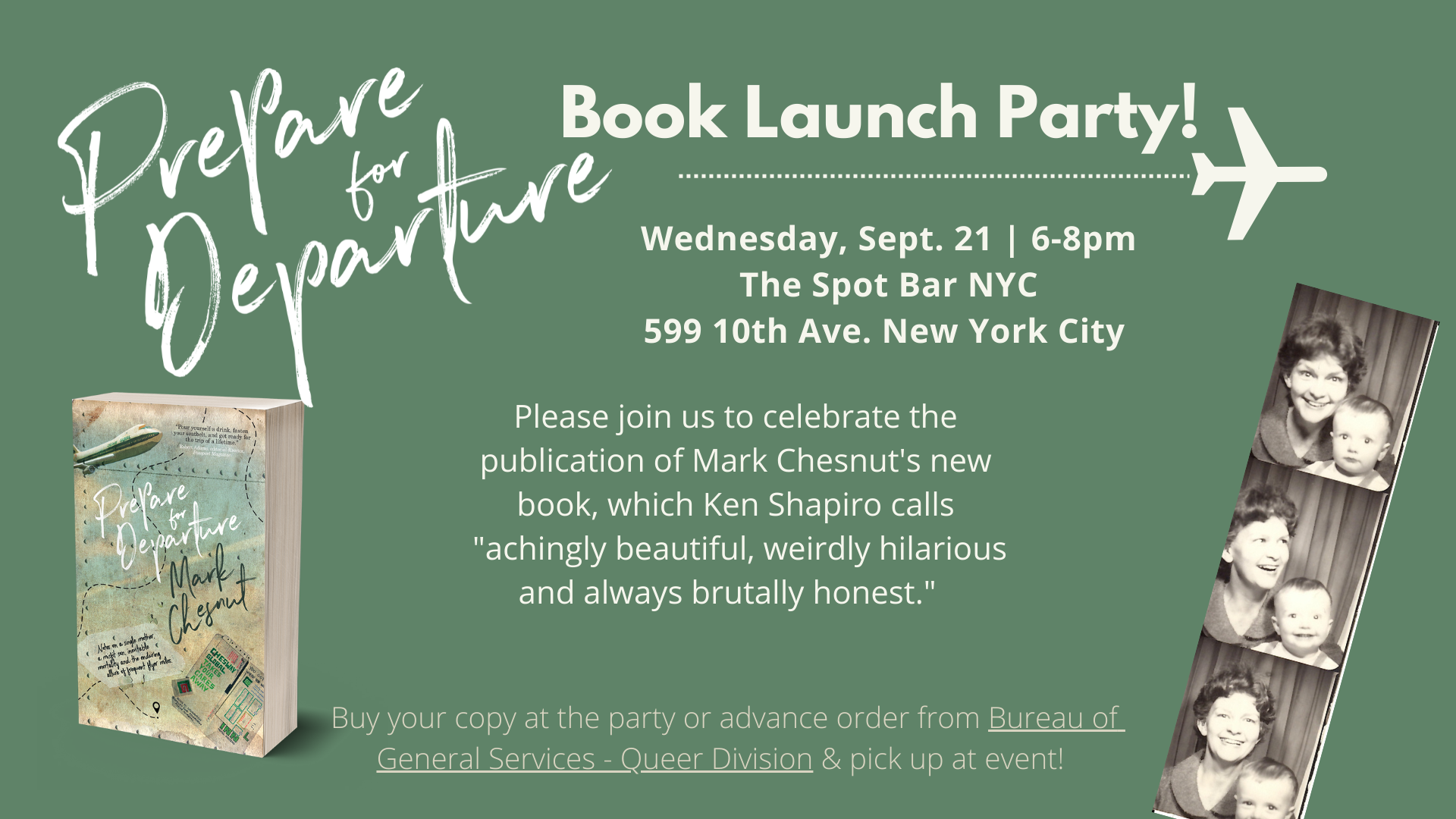 Please join us to celebrate the publication of Mark Chesnut's new book!
Prepare for Departure: Notes on a Single Mother, a Misfit Son, Inevitable Mortality and the Enduring Allure of Frequent Flyer Miles
September 21, 2022, 6-8pm
New York City Book Launch Party
The Spot
599 10th Ave, New York, NY 10036
Open to the Public
Hosted with generous support from ENroute Communications, so you know it's going to be good!

Buy your copy at the party, or advance order from the Bureau of General Services — Queer Division and you can pick it up at the event or have it shipped to you!

This lively event will include book signings, a book reading, a Q&A and lots of socializing.

More info on the Facebook event page.

What They're Saying About "Prepare for Departure":
• Robert Adams at Passport has called the book the "trip of a lifetime."
• Ken Shapiro at TravelAge West calls it "achingly beautiful, weirdly hilarious and always brutally honest."
• Lisa Takeuchi Cullen, vice president of the Writers Guild of America, East, says that "like David Sedaris, Mark Chesnut weaves dark humor (as well as a healthy dose of 1970s nostalgia) into his clever prose."
• Arnie Weissmann of Travel Weekly says that "Mark was born with a traveler's eye, one that sees below the surface, and a writer's voice, to share what he sees in ways that enlighten others."
• Award-winning film director Ann LeSchander says that ""Prepare for Departure' is filled with trials, triumphs and laughter. It's a trip you won't want to miss."