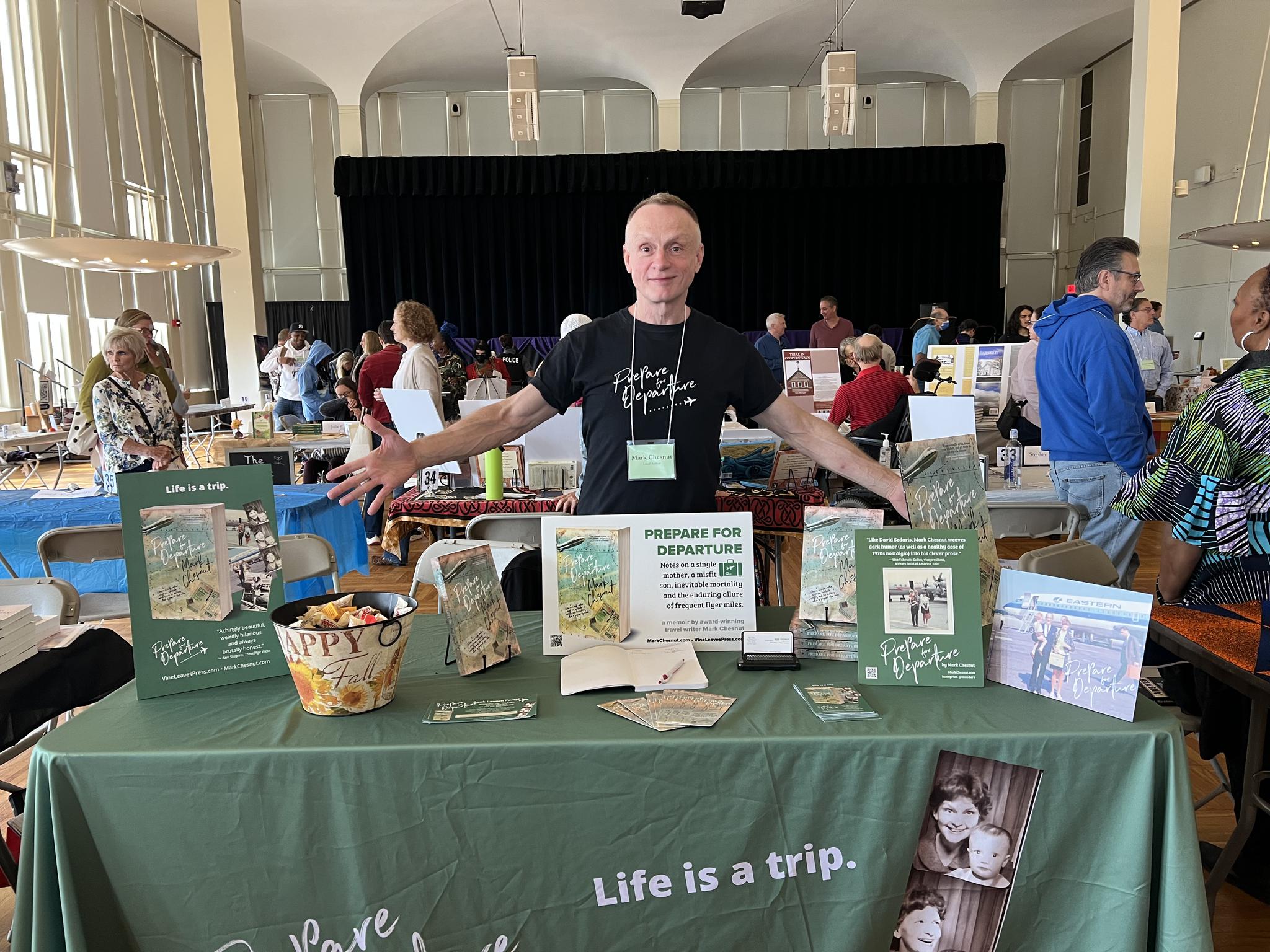 By Mark Chesnut, author, Prepare for Departure: Notes on a Single Mother, a Misfit Son, Inevitable Mortality and the Enduring Allure of Frequent Flyer Miles (Vine Leaves Press, 2022)

••••
WE ALL have a story to tell. And all of our stories are valid and worth telling. But actually putting your story together and getting it in front of other people is quite a task.

This outline covers 6 important steps you should be prepared to take, from when you first start writing to after your book is published.

HOW TO WRITE A MEMOIR
Memoirs are all about you and your story. But writing a great book and getting it in front of others is a complex process. And once you get started, if you're going to be successful, you'll soon realize that it's really NOT all about you!
In this workshop, I'm going to share some insider tips about how to start your memoir, how to craft the ideal story, and — just as importantly — how to position your memoir from a marketing perspective and present it to literary agents, publishers and the general public once it's out.
I'm going to share some of the lessons I learned as an author while creating and marketing my own new memoir, "Prepare for Departure: Notes on a Single Mother, a Misfit Son, Inevitable Mortality and the Enduring Allure of Frequent Flyer Miles."
I'll tell you a little about myself first, so you know where I'm coming from.
First off, I've got a lot of Kentucky in my blood. My mother was born here in Louisville, my father was born near Barbourville and is buried here at Cave Hill Cemetery. My grandparents were from Western Kentucky. So I have family roots all over the state.
I live in New York City and I've been a travel writer for almost 30 years. I love exploring the world while writing about travel tips, hotel reviews and vacation ideas. My work has appeared in some top travel industry media outlets.
BUT when I decided to shift gears and write my first memoir, I felt more out of place than a frequent flyer without a boarding pass. Creative nonfiction and life stories, after all, are a far cry from hotel reviews and tour recommendations.
How could my writing succeed in an entirely new genre?
Well, the truth is, it doesn't matter what your background is. We all have a story that's worth telling. It's just a matter of finding the best way to do it, and the best way to get that story out in front of other people.
It doesn't really matter what you do for a living right now, if you have the ability to share your story successfully as a memoir.
So let's start with the basics.
WHAT'S THE DIFFERENCE BETWEEN A MEMOIR AND AN AUTOBIOGRAPHY?
Memoirs are not autobiographies.
An autobiography is the complete story of your life, start to finish.
Memoirs are more like a subcategory of autobiographies. It's more focused, usually on a specific time frame of your life, or a specific event or group of events of your life.
Classic examples of memoir include Walden, by Henry David Thoreau, which tells the story of the author's time spent in a cabin near Walden Pond. More recent examples include Running with Scissors, by Augusten Burroughs and Crying in H Mart by Michelle Zauner.
A lot of celebrities write memoirs too, but I'm going to caution you about those in just a few minutes.
Here are those 6 steps you get started.

NARROW YOUR FOCUS
First, you need to decide what aspect of your life you're doing to focus on.
Consider the different types of memoirs — coming of age, overcoming adversity, examining relationships, exploring your career, sharing unique travel experiences.
My book, PREPARE FOR DEPARTURE, is the story of a mother and son facing the last month's of the mother's life as they revisit their lives together.
So my book is a combination of an end-of-life story with a coming out story and a coming-of-age story.
You don't have to be limited to one type of memoir. My memoir is funny and sad. The elements just need to work well together and complement each other.
Whatever type of memoir yours is turning out to be, one thing you must stick with is the truth. You need to tell the truth and show the good, the bad and the ugly.
In order to engage with readers, you need to tell an honest story that is relatable. It should be realistic. And to be realistic, you need to show flawed characters, including yourself. Humans are imperfect. We're all imperfect. And we can relate to imperfections in other people. Perfect people are boring!
2. ENGAGE YOUR READERS
Including relatable characters is just one way to engage your readers. You also need to be visual. Be detailed. Use all of your senses. Because life is a multisensory experience, and effective memoir writing should be, too.
You need to describe not only what your scenes look like, but also how they smell, taste, sound, and feel. To connect with readers, you've got to take them on a journey that engages all the senses.
This can be challenging at times, especially when you're writing scenes that took place decades ago.
To try to zero in on those types of details, I've found it helps when I'm sitting by myself in a quiet place. I sometimes close my eyes and "look around" the scene that I'm about to write, imagining the sensory details. What can I smell, feel, touch, taste?
Whether it's the slick vinyl seats of the giant Ford my mother drove as she scolded me for sticking my foot into a cake, or the aroma of jet fuel that ignited my wanderlust at Chicago O'Hare International Airport, multisensory descriptions go a long way toward making scenes more realistic.
Some other tips:
• Use some of the tactics of fiction writing to make a compelling story. Think in terms of conflict, resolution, climax, changes in characters. Consider the narrative arc Engage the emotions.
• Spend extra time to craft a great opening that will really pull readers in. For Prepare for Departure, I began with a dramatic opening when my mother arrived at a nursing home. But I realized it was too heavy to open the book with that, so I went back and wrote a prologue that showed some of the humor that the book contains, before jumping into the heavier stuff. That way readers got a more balance vision within the first three pages.
• And of course, a great title helps to bring in readers, too. You should work hard on a good one for your book proposal — but keep in mind that agents and publishers may want to work with you later on an even better one.
In addition, after your first draft or two, you should spend more time thinking about your readers.
A memoir may seem to be all about you since it is, well, all about you. But if you're truly looking to get published, you must think beyond the fact that this is your own personal story.
Ask yourself these questions:
• What types of people will read your book?
• Why should they read it? What will they get out of it? Will they learn something new? Will they be entertained? Will they laugh? Will they cry?
• How is your story similar, and how is it different from all the other stories out there?
Comparing your work to other memoirs can help you to identify your audience. In my case, for example, readers who enjoy the work of David Sedaris, Samantha Irby, Augusten Burroughs, and Jenny Lawson might like my memoir, since it's a quirky story that deals with serious topics with a healthy dose of dark humor.
But every memoir is different in terms of who it will attract.
3. GET INSPIRATION AND FEEDBACK
There are many ways to get inspired as a writer, and to get feedback that will help you to be a better writer.
Speaking of other memoirs, for example, it's important to read a few. Actually, read a lot of them.
Find people with similar voices or similar stories. What do you like about their approach, and what do you not like? Reading the work of others can help you to find your voice and perfect your story.
One big tip I must mention: do NOT limit yourself to reading celebrity memoirs, and do NOT try to fashion your own book solely after celebrity memoirs.
I've learned to be realistic as a memoirist — namely, to be aware that I'm not famous and very few people will immediately care about my story. Unless you're already famous, you probably will be in the same situation as me.
Sure, we can all find inspiration in bestselling celebrity memoirs, but unless you're a big name too, your memoir really falls into a different category of work. So when you set out to tell the story of your own life, keep in mind you've got a bigger hill to climb than the sparkly folks in Hollywood or Washington, D.C.
You can certainly learn from mainstream celebrity memoirists, but you can learn just as much from lesser-known authors who know how to tell a good story. It's those writers, in fact, who've taught me the most about how to craft a compelling memoir.
Another way to get inspiration — and improve your writing, is to WORKSHOP YOUR WORK.
Input from others is crucial. Ideally, the people who read your early drafts should include other writers — or at least people who read a lot. They do not have to be friends or family, and in fact it may be better if they AREN'T friends or family.
Classes, workshops and informal writers' groups can all be a big help.
In addition, you should consider attending events. Book festivals like this one are great for networking and learning, and there are also writers conferences like the Writers Digest conference, where you can take workshops, meet other writers and even have a chance to pitch your work to literary agents.
As you move forward, you'll need to REVISE — A LOT.
You want your manuscript to be as good as possible, right?
You should also step back from your manuscript for a few weeks or even a few months. Giving yourself some time away from your book will allow you to come back with fresh eyes.
4. FIND A PATH TO PUBLICATION
As your manuscript gets into shape, it's time to start thinking about how you're going to get it published. Unless you're going the self-published book route, that means you must ASSEMBLE YOUR BOOK PROPOSAL.
You can't sell a book without a well-written proposal. A proper proposal should include:
Introduction
Author Bio
Marketing Plan
Competitive Analysis
Chapter Outline and Summaries
Sample chapters or the entire manuscript (according to guidelines)
If you decide you need a literary agent — and it's usually a good thing to have one — you should also begin to RESEARCH LITERARY AGENTS.
You'll need to spend a lot of time researching agents.
Literary agents are not all the same. Each has very specific focus areas and most will not be interested in your topic. You'll be wasting your own time — and not getting many responses — if you send out your proposal blindly.
When you submit your proposal to an agent, you need to FOLLOW SUBMISSION GUIDELINES.
Following guidelines is crucial, whether you're looking for an agent or a publisher. Every agent and every publisher has different submission guidelines. Read their websites and do what they ask.
WHAT IF THE AGENTS DON'T BITE?
Can you get a publishing deal without an agent? Absolutely!
I admit it. I dreamed of hooking up with a big-name publishing house for my first memoir. But if I'd held out for that, I still wouldn't have a published memoir on my shelf today.
Sure, you can still pitch to the most legendary literary agents and big-name publishing houses (I certainly did). But unless you're an established writer or a celebrity, you may not attract much interest for a memoir. To be honest, memoirs can be a hard sell.
Don't get discouraged. Keep moving. Some of the biggest publishers don't accept submissions without an agent. But a lot of publishers — especially indie publishers — DO accept submissions directly from authors. That's how I did it.
If you're truly passionate about sharing your story with the world, you'll find a way to do so.
When you are lucky enough to start getting offers from agents or publishers, you should be prepared for a LENGTHY PUBLISHING PROCESS.
The process takes months — sometimes years. Be prepared to carve some time out of your schedule for revisions and discussions with your agent and publisher. They usually know what they're doing.
Once the book is out, HURRAY! You've got a beautiful book in your hands. You've worked so hard, and so long. But is your work over? NO WAY!
5. PREPARE TO PUBLICIZE
Unless you're a big-name author, promoting and marketing your book will take a lot of work. But it can be a lot of fun. Start assembling names of media outlets, influencers and any other channel that might be appropriate for your work.
In my case, for example, for PREPARE FOR DEPARTURE, I focused on media outlets including magazines, websites, blog posts that focus on:
Grief and mourning
Travel writing
Writing in general
LGBTQ issues
Local news related to my home markets of New York City, Rochester and Louisville.
You should also be sure to have a website and at least one social media channel of your own, which you can use to promote your work. Determine the type of content and promotions that you feel best at handling.
You should make sure to have a good idea of how much publicity work your publisher will do and what they will provide. Even if you have a publicist, you should still be ready to do some of your own research and work.
You can also consider hiring an independent publicist, which is what I did. But you still have to do a lot of your own work to get the word out there.
If you contact me later, I'd be happy to share my extensive list of questions you should ask a publicist.
But to give you an idea, here are some of the ADVANTAGES & DISADVANTAGES OF HIRING A PUBLICIST.
Advantages of hiring a publicist:
Access to expertise and advice
They know outlets and opportunities that you don't
They can handle details like public appearances
Disadvantages of hiring a publicist:
Expensive
They have a limited amount of time and won't be able to do everything that you want
They may shoot low at the easy media targets, so you'll need to work yourself to shoot high
6. NEVER GIVE UP.

It doesn't matter how many times you submit. It only matters that you share your story. I've faced lots of rejection as a travel writer, but I didn't let that stop me. And I followed a similar strategy with my memoir. I just kept going until I found a publisher, just kept editing and revising until the book was in great shape, and then just kept promoting until the book got media attention.
As a result, PREPARE FOR DEPATURE — was published by a wonderful indie publisher called Vine Leaves Press, and it's gotten mentions in national media like Forbes and local TV and newspapers in three different cities.
The lesson? Have a strategy. And don't ever give up!