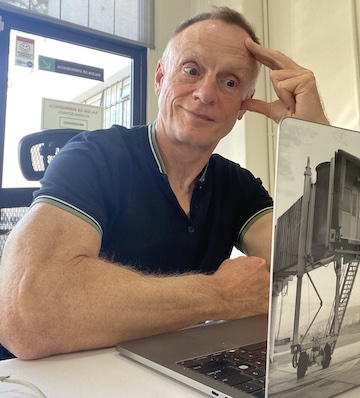 I'm excited to be wrapping up the developmental editing process of my memoir anthology with an amazing editor named Melanie Faith at Vine Leaves Press. Since this is my first creative nonfiction book, it's been a truly educational process for me from day one. And I've been surprised to find that the most difficult part of editing wasn't about massive rewrites or refocusing plot points or characterizations.
The hardest part has been simply about deciding what names I can safely mention in the book.

If you've read my previous posts, you know that I'm working on my first creative nonfiction book, a memoir anthology tentatively titled Prepare for Departure: A Travel Writer's Notes on Life, Death and Frequent Flyer Miles. It's a collection of stories that recount the journeys that families sometimes must take together, through life, death and travel, and it's based on real life.

But I've had to be much more careful than expected when it comes to mentioning specific individuals, as well as brand names, businesses and organizations. Even though I'm not writing some scandalous tell-all, there are still several factors I need to be aware of:
Defamation, libel and slander
Invasion of privacy
Consumer fraud
I've consulted with my wonderful editor and a publishing attorney about these issues, and also done lots of online research.

The bottom line is that there is no set bottom line. As the attorney said, a lot of my decisions about what to include should be based on how risk averse I am.

Can I mention the make of car that my mother drove in the memoir? Most likely, as long as it's not in a negative light. But still, I've heard about how one car manufacturer made a filmmaker remove its logo from cars used in Slumdog Millionaire. You never know when a corporate entity might get touchy.
Can I mention specific people? Again, the answer is yes, but I could be sued by someone if they're reasonably identifiable, are still living and the story portrays them in an unflattering manner.

The developmental editing process also involves general editing and rewriting to assure that the story is clear, flows well and is engaging. But I truly am surprised to find that so many of my developmental editing chores have revolved around legal considerations like copyright and trademarks and brands and all that fun stuff.

It's been eye opening and also scares me a bit, because I don't want to take out every single name in my book — brand names in particular help to make a story more realistic, and I am telling true stories in my book.

But I'm also rather risk averse. So you may find yourself guessing the true identities of some businesses, organizations and brands in the book. Consider it part of the fun of reading.

And stay tuned: the book will be available for pre-order in May 2022!